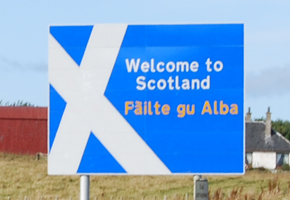 Scotland Pubs and Bars
Scotland has pubs to suit every taste, you can drink in historic pubs,
Real Ale PubsYoung and Trendy Bars across Scotland.





Royal Mile Edinburgh
The Royal Mile leading down from the castle is where you find a fast array of pubs to suit every taste. The Old town usually has cheaper pubs to drink in than the new town. All pubs in Edinburgh are non smoking although many now have beer gardens or facilities where you can smoke outside. You can drink almost 24 hours a day in Edinburgh so you just need to find where the party is at.

Real Ale Pubs in Edinburgh





Just outside Edinburgh in Musselburgh is one of the best real ale pubs anywhere. Although it is called the Volunteer Arms everyone calls it Staggs. Staggs bar is frequently Camra's (Camra is the Campaign for Real Ale) national pub of the year.

In South Queensferry, under Forth Bridge is the Hawes Inn which is said to be the inspiration for the Admiral Benbow Inn in Robert Louis Stevenson's Treasure Island.



In Leith the Malt and Hops on the Shore, has good beer range The Kings Wark closeby offers them some competition.



Near the town centre in Tollcross is Cloisters is a converted parsonage. It has 9 cask ales on tap.



In the South Side of Edinburgh, Leslies Bar, the Old Bell and the Southsider are the best.

In Duddingston, is the Sheep Heid, a medieval building at the foot of Arthurs Seat. It is said that Mary Queen of Scots and Bonnie Prince Charlie were regular customers.



The Bow Bar in Victoria Street is one of Edinburgh's best-known real ale pubs.



Behind the east end of Princes Street are the Guildford Arms and the Café Royal. The Guildford is one of Edinburgh's best real ale pubs and the Café Royal is spectacular voted it one of UK's top 50 Pubs.




Young and Trendy Bars in Edinburgh




Q bar Leith Street

Edinburgh has a variety of pubs for the yound and trendy. Edwards at the West End of Princess Street The Dome on George Street. The Q bar, on Leith Street and Walkabouts at the Omni Centre to name but a few. George the IV Bridge has Frankensteins.


Edwards Bar , 4 South Charlotte Street 0131 226 5526 Friendly atmosphere Happy Hours



Jekyll and Hyde Bar , 112 Hanover Street 0131 225 2022
made famous by Robert Louis Stevenson



Au Bar, 101 Shandwick Place 0131 228 2648 Small and Intimate at the end of Princess Street very central



Bar Kohl, 54 George IV Bridge 0131 225 6936 Vodka Bar great range of Vodkas from across Europe



Bar 38, 128 George Street 0131 220 6180
Style and Elegance



Rutland, 3 Rutland Street 0131 229 3402 recently refurbished and looking great


Bar Oz, 14 Forest Road 0131 220 1816 Australian Bar



Walkabout Omni Centre Edinburgh Australian Bar in Omni Centre

Edinburgh Old Town Pubs and Bars




Royal Mile Bar High Street
The old town in Edinburgh is very distinct fom the New Town and has some great pubs, travel up from the Waverly station via the bars on Cockburn Street which lead to the High Street and the Royal mile bar and then onto George IV Bridge where you will find Bar Kohl, a Vodka bar, and then on to Victoria Street and which leads you to the Grassmarket and the Cowgate to The Three Sisters Pub one of Edinburghs busiest pubs



Edinburgh New Town Bars




The Dome George Street
Drinking in Edinburgh's New Town is a great experience form Rose Street World renowed as a street of pubs to George Street Fashionable and Trendy. There are so many Pubs that will satisfy every taste.

This area of town has everything form Cocktail bars to Cosmopolitan Venues. Try the Cafe Royal for old world charm or the Dome for a mixture of drinking and dancing.

Edinburgh Grassmarket Pubs and Bars






Beehive Pub

Grassmarket
The Grassmarket is agreat place to drink although often at the weekends you will find hen nights in Edinburgh. There are traditional pubs such as the Beehive Irish pubs such as Biddy Milligans and the Black Bull which is big enough for people to use as a meeting place.

The Grassmarket is a short walk from the Royal mile and close to the Cowgate


Edinburgh City Centre Pubs

Auld Hundred, 100 Rose Street 0131 1809 Traditional Scottish



Black Bull, 12 Grassmarket 0131 225 6636 Large Pub great meeting place



Café Royal, 17 West Register Street 0131 556 4124

The Independent voted it one of UK's top 50 Pubs



Standing Order 62-66 George Street 0131 225 4460

Live Music Pubs and Bars in Edinburgh




The Saltire Rose Street
There are a number of Pubs and Venues that offer live music in Edinburgh. Everthing from Jazz to local Bands. Bannermans in the Cowgate is a great venue for Bands in Edinburgh.

Drop Kick Murphys on Merchant Street also has live music at the weekends. The Saltire a traditional Pub on Rose Street also has live music.



Edinburgh City Centre Pubs

Deacon Brodies, 435 Lawn Market 0131 225 6531

Oxford Bar, 8 Young Street 0131 539 7119 made famous by Ian Rankin's Inspector Rebus



Rose Street Brewery 55-57 Rose Street 0131 220 1227



Worlds End , Corner of St Mary's Street and the High Street, a traditional pub and a great night out, sit and enjoy the atmosphere
Pubs in Glasgow


Glasgow is a friendly city for a night out with a great selection of pubs, all of which sell a large number of whisky
'

s, wines and beers.


Mondo - Glasgow
133 West George Street, Glasgow G2 2JJ 0141 204 5211

Vroni's Wine Bar - Glasgow
47, West Nile St, Glasgow G1 2PT 0141 221 4677

The Nile Bar - Glasgow
50-60, West Nile St, Glasgow G1 2NP 0141 564 5141

All Bar One - Glasgow
St Vincent Street, Glasgow G2 5TS 0141 229 6060

Strata - Glasgow
45, Queen St, Glasgow G1 3EH 0141 221 1888

Edward Wylie (JD Wetherspoon) - Glasgow
107/109 Bothwell Street, Glasgow G2 7EE

Bar Censsa - Glasgow
140, West George St, Glasgow G2 2HG 0141 353 1022

Edwards - Glasgow
West George St, Glasgow G2 1PS 0141 332 9724

Frankenstein - Glasgow
92, West George St, Glasgow G2 1PH 0141 331 4111

Fat Bobs - Glasgow
40 Howard Street, Glasgow G1 4EE 0141 229 5840

The Pot Still - Glasgow
154 Hope Street, Glasgow G2 2TH 0141 333 0980

Morrisons - Glasgow
220, Clyde St, Glasgow G1 4JH 0141 248 5329

O'Neills - Glasgow
157 Queen Street, Glasgow G1 3BJ

Maltman - Glasgow
59/61 Renfield Street, Glasgow G2 1LF

Counting House (JD Wetherspoon) - Glasgow
2 St Vincent Place, 24 George Square, Glasgow G1 2EU

The Duke Of New York - Glasgow
57, West Regent St, Glasgow G2 2AE 0141 332 0595

The Candy Bar - Glasgow
185, Hope St, Glasgow G2 2UL 0141 353 7420

Bar Cini - Glasgow
81 Renfield Street, Glasgow G2 1LP 0141 353 2807

Revolution - Glasgow
69, Renfield St, Glasgow G2 1LP 0141 331 2773

The Ingram Bar - Glasgow
136-138 Queen Street, Glasgow G1 3BX

The Liquid Lounge - Glasgow
94, West Regent St, Glasgow G2 2QD 0141 353 6333

The Vale - Glasgow
5-7, Dundas St, Glasgow G1 2AH 0141 333 0946

Drummonds - Glasgow
4A West Regent Street, Glasgow G2 1RW

Rufus T. Firefly's - Glasgow
207 Hope Street, Glasgow G2 2UW 0141 332 1469

Huggy Bears - Glasgow
73 Bath Street, Glasgow G2 2DH 0141 353 0571

Europa - Glasgow
8-10, West George St, Glasgow G2 1DR 0141 332 8005

Hogshead - Glasgow
14-16 West George Street, Glasgow G2 1DR 0141 353 6082

The Dow Jones - Glasgow
203, Buchanan St, Glasgow G1 2JZ 0141 332 1187

The Pad - Glasgow
142, West Regent St, Glasgow G2 2RQ 0141 572 4041

The Corinthian - Glasgow
191 Ingram Street, Glasgow G1 1DQ 0141 552 1101

Delmonicas - Glasgow
68, Virginia St, Glasgow G1 1TX 0141 552 4803

The Monkey Bar - Glasgow
100, Bath St, Glasgow G2 2EN 0141 572 0001

The Iron Horse - Glasgow
115, West Nile St, Glasgow G1 2SB 0141 332 2215

The Polo Lounge - Glasgow
84 Wilson Street, Glasgow G1 1UZ 0141 553 1221
McGinns - Glasgow
16, Hope St, Glasgow G2 6AA 0141 847 0850

The Alpen Lodge - Glasgow
25a, Hope St, Glasgow G2 6AB 0141 221 4648

Denholms Bar - Glasgow
17, Hope St, Glasgow G2 6AB 0141 221 3016

The Solid Rock Cafe - Glasgow
19, Hope St, Glasgow G2 6AB 0141 221 1105

Trader Joes - Glasgow
329, Hope St, Glasgow G2 6AB 0141 331 5190

The Underworld - Glasgow
95, Union St, Glasgow G1 3TA 0141 221 5020

Goose On Union Street - Glasgow
48 Union Street, Glasgow G1 3QX

Sir John Moore (JD Wetherspoon) - Glasgow
Argyle Street, Glasgow G2 8QW

Bar Sporto - Glasgow
17 Waterloo Street, Glasgow G2 6AY 0141 572 0011

The Toby Jug - Glasgow
6-8 Waterloo Street, Glasgow G2 6DA 0141 2214159

The Quarter Gill - Glasgow
42, Oswald St, Glasgow G1 4PL 0141 221 0654

Fouquets Bar and Restaurant - Glasgow
6 Renfield Street, Glasgow G2 5EZ 0141 226 4958

Bar Ten - Glasgow
10, Mitchell Lane, Glasgow G1 3NU 0141 572 1448

Horseshoe Bar - Glasgow
17-19 Drury Street, Glasgow G2 5AE

Republic Bier Halle - Glasgow
9, Gordon St, Glasgow G1 3PL 0141 204 0706

Rockers - Glasgow
14, Midland St, Glasgow G1 4PP 0141 221 0726

Waterloo Bar - Glasgow
306 Argyle Street, Glasgow G2 8LY

McSorleys - Glasgow
42 Jamaica Street, Glasgow G1 4QG

The Drum and Monkey - Glasgow
93, St. Vincent St, Glasgow G2 5TF 0141 221 6636

The Imperial - Glasgow
6 Howard Street, Glasgow G1 4AZ 0141 221 8217

The Lab - Glasgow
26, Springfield Court, Glasgow G1 3DQ 0141 222 2116

October - Glasgow
Unit 54, Princes Square, Buchanan St, Glasgow G1 3JN 0141 221 0303

Osmosis - Glasgow
318, Clyde St, Glasgow G1 4NR

The Admiral - Glasgow
72a, Waterloo St, Glasgow G2 7DA 0141 221 7705

Lloyds No. 1 - Glasgow
151 West George Street, Glasgow G2 2JJ 0141 229 7560