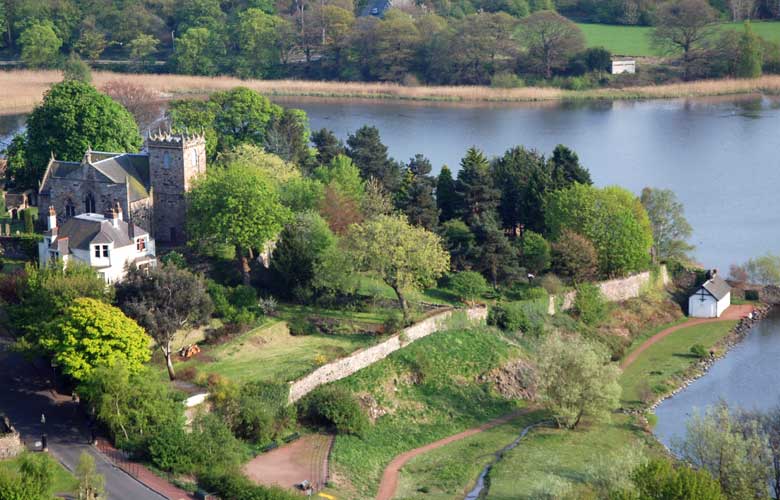 THOMSON'S TOWER
DUDDINGSTON CURLING HOUSE

DR NEIL'S GARDEN
(access from Kirk car park Duddingston Road West)
OPEN EACH SATURDAY & SUNDAY JUNE, JULY & AUGUST
12 NOON - 5PM
THIS BUILDING HAS BEEN RESTORED AS A SMALL CURLING MUSEUM AND CENTRE ALSO PRESENTING THE HISTORY OF THE TOWER AND GARDEN.
Admission: : Adults £2 Children Free
Special functions by arrangement see www.drneilsgarden.co.uk






DR NEIL'S GARDEN & THOMSON'S TOWER

Dr Neil's Garden Duddingston is one of the most beautiful small gardens in Scotland. It is situated on the lower slopes of Arthur's Seat behind the 12th century Kirk. This secluded garden is the result of the imagination, dedication and sheer hard work of Drs Andrew and Nancy Neil.
In 1965 the doctors whose medical practice was within Duddingston parish had the idea of creating a garden on what was effectively the Kirk rubbish dump. The site was extremely challenging, being very steep with rocky outcrops, with no vehicular access and no services.
The Neils' enthusiasm, horticultural expertise and prodigious physical labour transformed the site into the colourful series of terraces we see today.

Thomson's Tower is a unique octagonal building located in Dr Neil's Garden on the shores of Duddingston Loch. It was designed by the famous Edinburgh architect William Playfair and built in 1825 by Duddingston Curling Society as their curling house.
The tower was named after the Reverend John Thomson, minister of Duddingston Kirk from 1805 – 1840 and famous landscape artist who used the tower as a studio.
The building is historically important, being the home of Duddingston Curling Society, who wrote the rules of curling which are still used throughout the world today.
The tower consists of a lower and upper chamber and has recently been restored by Dr Neil's Garden Trust with funding from Heritage Lottery Fund, Historic Scotland, The National Trust for Scotland and others.
The lower chamber is a small museum of curling and the upper chamber gives the history of the tower and garden and its associations with Playfair, Thomson and curling.